Phoenix Dealer Researching the New Equinox Equinox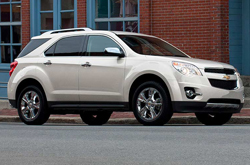 As its name suggests, Equinox offers balance. From the interior to the exterior and under the hood, the award-winning crossover balances seemingly incompatible qualities, and this very special trait is one of the primary reasons why it's a top pick in its segment. Efficient yet fun-to-drive and smart yet stylish, many Chevy Equinox reviews agree that this is one compact SUV capable of pleasing most all needs.
Local shoppers can find the new 2015 Chevy Equinox for sale in Scottsdale. Two engines are offered, beginning with the standard 2.4-liter four-cylinder engine, which gets 182 horsepower while delivering an EPA-estimated 32 mpg highway! And unlike many competitors in its class, Equinox also offers an available V-6 engine that's a great option for performance lovers, rating in at 301 horsepower. While front-wheel drive is standard, all-wheel drive is optional for those who want all-weather and all-terrain traction.
Moving into the cabin, the SUV also doesn't disappoint. And how could it? With standard and available amenities like Bluetooth hands-free phone, SiriusXM satellite radio, rear parking sensors, OnStar emergency communications, cruise control, keyless entry, heated front seats, sliding and reclining back seats, and a tilt/telescope steering wheel, it checks off all kinds of boxes for shoppers interested in practicality, innovative tech and comfort. Plus, along with these features, when you purchase the new 2015 Chevy Equinox in the Phoenix area, you'll get to take advantage of the SUV's standard new Wi-Fi hotspot, which can support seven devices at once! That means you and your passengers can access the Internet anytime the car is turned on.
KBB.com's last Chevy Equinox review stated that for drivers who "want a comfortable family/gear hauler that's larger than other compact crossover SUVs but small enough to be at ease in parking lots, the Equinox is worth a look." Not only does this statement still ring true for the 2015 model, but now that the SUV offers built-in Wi-Fi, we're sure it'll be even more appealing to crossover buyers!