What's the secret to getting a long lifespan from your vehicle's tires? It's actually quite straightforward: routine tire service near me. In fact, this simple task comes with plenty of benefits, such as increased tire life, better fuel economy and improved ride quality.
Ready to learn more? Our Chevy tire care guide has all of the information you need to become a tire expert, including how to maintain great tire health and signs of tire wear and damage.
The ABCs of Tire Service
Like most of the items on your to-do list, tire service near me isn't super exciting. However, once you think about how much time and money it can save you in the long run, it definitely becomes worth your while. Plus, keeping your tires in good shape ensures that your vehicle continues to perform at its best.
Wondering how often to rotate tires or when to get your wheel alignment inspected? Just follow your ABCs:
Air pressure should be checked monthly
Balance and rotate tires every 7,500 miles
Check wheel alignment at least once a year
And most importantly, Don't hesitate to visit our Scottsdale tire shop if you are experiencing any problems with your tires
Common Signs of Tire Wear and Damage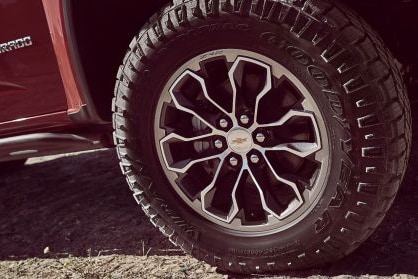 While routine maintenance is key to extending the longevity of your tires, they may need additional repair from time to time. External factors like weather and road conditions can have adverse effects, meaning it's important to pay attention to both the appearance and performance of your tires.
Here are the most common symptoms of tire problems:
Uneven or abnormal tire wear patterns
Cracks or cuts on the sidewalls
Bubbles or bulges on the sidewalls
Tire pressure monitoring system light won't turn off
Vehicle pulls to the left or right
Steering wheel and/or seats vibrate at highway speeds
If you're experiencing any of the above signs, it's imperative that you make a service appointment at our Scottsdale tire shop right away. Damaged tires compromise your safety on the road, carrying an increased risk of blowout or other tire failure.
When to Purchase New Tires in Scottsdale
When your tires start to look a little bald, it's typically an indicator that it's time for tire replacement in Scottsdale. Checking the tread depth is easy and can be done in minutes-the only tool you need is a penny! Take Abe, stick him head first into the tread and check his head. If you can see the top, you'll need to bite the bullet and visit us for some new Chevy tires.
Luckily, Van Chevrolet is your one-stop-shop for new tires in Scottsdale! Our tire shop near me carries a huge selection of top brands, including Michelin tires, Goodyear tires, Bridgestone tires and BFGoodrich tires.