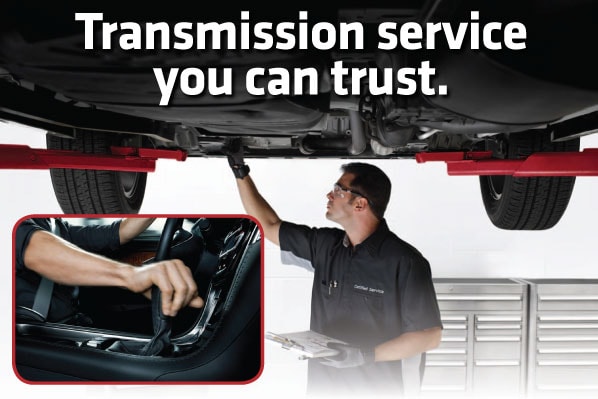 Van Chevrolet is proud to offer free transmission diagnosis in the Phoenix area, as well as free towing within 15 miles. If you experience transmission failure and need transmission repair or replacement, visit our Phoenix area auto repair shop. Van's manufacturer-trained technicians deliver excellent workmanship at fair prices, and will even price match any franchise repair facility, so you can be sure that you're getting the absolute best price.
You'll also have access to OEM (original equipment manufacturer) parts like GM's SERTA transmission, which comes with a nationwide 3-year or 100,000-mile warranty. Keep in mind that our competitors' warranties may not be what they say they are. Many give a false sense of security and have a ton of hidden print that forces the customer to adhere to strict maintenance guidelines. When you bring your vehicle into our Phoenix area Chevrolet dealership, you'll get the real deal on authentic GM parts, with no hidden print.
We're Your Connection for GM Transmissions, Transfer Cases & Components
Aftermarket parts don't offer GM quality, GM testing, GM warranties or GM value - only true GM parts do, and we stand behind the quality of our products. At Van, you'll also find incredibly competitive prices for OEM transmission parts and the best in replacement assemblies and components. Too often the competition can't deliver the same:
Competition may only replace what is broken and install subpar aftermarket parts.
Competition may offer comprehensive warranty, but may find many reasons not to honor it.
Competition usually only warranty the repairs at their facility and will not reimburse for repairs made on a trip or away from home.
Simply put: It just doesn't make sense to go anywhere else but Van Chevrolet, especially when you will find no better quality and you won't find a lower price. So, if you've been searching for affordable transmission repair in Phoenix, Scottsdale, Tempe, Glendale, Mesa or any other city in the area, contact us today! Our new and remanufactured replacement GM Transmissions, Transfer Cases and Components provide everything the competition can't:
Exacting OEM standards
Test certification under stringent and demanding conditions
The latest GM enhancements and improvements
Specifications equal to those in new GM vehicle transmissions, transfer cases and components
Top GM construction, engineering and designs
Nationwide Warranties: Your Financial Security Matters to Us
Everything above is backed up with strong, nationwide warranties that instill true peace of mind in our customers. Van offers a 12-month/12,000-mile warranty* on repairs that is honored by over 6,000 dealers, as well as the following nationwide GM warranties:
New GM Manual Transmissions/New & Remanufactured Transmission Components: 1 Year or 12,000 Miles* (Including parts and labor) 
Remanufactured GM Automatic Transmissions: 3 Years or 100,000 Miles** (Including parts and labor)
New & Remanufactured GM Transfer Cases: 3 Years or 100,000 Miles** (Including parts and labor)
Van Chevrolet has been in the business for 20 years, so we know how important consumer confidence is, and our customers can count on us to have their backs. We have dedicated transmission specialists who have been trained by GM, so you can expect top-notch workmanship. Often, the competition will replace an excessive amount of parts because they are guessing and have a lack of training and diagnostic equipment. And when it comes to pricing, you can also have confidence that Van will repair transmissions at a cheaper price than the competition in almost every case.
For all of these reasons and more, many Arizona residents have made us their premier auto repair and parts facility. We'd love to earn your business too! No matter how big or small your need is, please contact us today to see how we can assist you.
*Whichever comes first. Contact us for details. **Whichever comes first. This warranty does not apply to any unit installed under the General Motors New Vehicle Limited Warranty and covers only those parts that are marketed by GM as Goodwrench or GM Parts. Transfer cases sold prior to 1/1/09 have a 2-year/24,000-mile limited warranty.
Make an Inquiry
* Indicates a required field
Service Dept. Hours
Monday

7:00 am - 6:00 pm

Tuesday

7:00 am - 6:00 pm

Wednesday

7:00 am - 6:00 pm

Thursday

7:00 am - 6:00 pm

Friday

7:00 am - 6:00 pm

Saturday

7:00 am - 4:00 pm

Sunday

Closed
Sales Dept. Hours
Monday

8:00 am - 9:00 pm

Tuesday

8:00 am - 9:00 pm

Wednesday

8:00 am - 9:00 pm

Thursday

8:00 am - 9:00 pm

Friday

8:00 am - 9:00 pm

Saturday

8:00 am - 8:00 pm

Sunday

9:00 am - 7:00 pm