Take a Look Phoenix Chevrolet Shoppers - the Volt has Arrived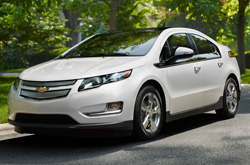 For the full 2013 Chevrolet Volt review, please scroll past the video below. As the foremost automotive writers performed countless hours of research on the Volt to provide you with the finest information possible. Make cognizant decisions when it comes to your next auto purchase, don't take guesses! Each passage is brimming with data and vehicle features in way that's easy to understand. Watch the video below or skip it to get the Volt review.
360 Degree Chevrolet Volt Video
2013 Chevrolet Volt Quick Specs
Compare the 2013 Chevrolet Volt to vehicles like the 2013 Ford Focus Electric, Hyundai Sonata Hybrid, Nissan Leaf and the Toyota Prius, and you'll realize that the Volt outperforms the competition in numerous areas. Scan our Quick List below to find out why!
2013 Chevrolet Volt Seats: 4 passengers
2013 Chevrolet Volt 0-60 MPH in 8.53 seconds
2013 Chevrolet Volt MSRP: $39,145
2013 Chevrolet Volt Colors: Viridian Joule, Black, Summit White, etc...
2013 Chevrolet Volt MPG: 24 city / 36 highway
2013 Chevrolet Volt Cargo Space: 10.6 cubic feet
2013 Chevrolet Volt Body Style(s): Compact Sedan
Trim Levels & Amenities for Phoenix Chevrolet Volt Drivers
Engine Specs: See What's Under the 2013 Volt's Hood
The 2013 Volt Was Designed With Your Safety in Mind
Learn About Our Chevrolet Auto Repair Center
Get a free warranty on repairs - plus access to real Chevrolet parts and superb Chevrolet technicians - at your foremost Phoenix area Chevrolet repair center. If you pass over getting tried-and-true repair work, your Chevrolet Volt's health might be damaged, so take it to the skilled mechanics at Van Chevrolet. We handle a variety of jobs, including everything from snappy oil and filter changes and battery replacement to intricate tasks like muffler maintenance and more. Van Chevrolet's got your back for all Chevrolet Volt maintenances in Phoenix, including simple factory recommended services. Get instantaneous savings at the following link. Click below to look up coupons!