Review the 2013 Suburban from Chevrolet Dealer in Phoenix
Van Chevrolet your source for 2013 Suburban research and reviews. Good Suburban reviews are hard to find; let the well-known Chevrolet franchise in Phoenix put it all in one location for you. Loaded with valuable specs and data, each article gives you complete access to all the Chevrolet Suburban has to offer. Read on to see if the 2013 Suburban should be parked outside your home.
Suburban Video Review - Specs, Features & More
2013 Chevrolet Suburban Quick Specs
Comparing the 2013 Chevrolet Suburban against against vehicles like the 2013 Ford Expedition EL, Buick Enclave, Toyota Sequoia, Dodge Durango and the Nissan Armada, and you will discover that the 2013 Suburban transcends the competition in numerous areas. Pay attention to our bullets to see why!
2013 Chevrolet Suburban Body Style(s): Large SUV
2013 Chevrolet Suburban Cargo Space: 45.8 cubic feet
2013 Chevrolet Suburban MSRP: $43,545
2013 Chevrolet Suburban Seats: 8 passengers
2013 Chevrolet Suburban 0-60 MPH in 7.1 seconds
2013 Chevrolet Suburban Colors: Blue Ray, Black, Silver Ice, etc...
2013 Chevrolet Suburban MPG: 15 city / 21 highway
Features & Trims Available to Phoenix Chevrolet Suburban Shoppers
Phoenix Chevrolet Suburban Owner Warranty Info & Safety
Helping You Uphold the Value & Quality of Your Investment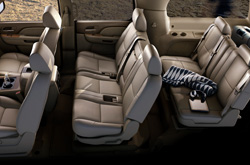 Our Chevrolet dealership in Phoenix is rooted near a plethora bordering cities! So, you're a quick drive away from receiving real OEM parts and work from Chevrolet technicians! We also guarantee a gratis warranty on repairs! Our Chevrolet auto service division in Phoenix is home to esteemed repair buffs, so get your Suburban over for topnotch service. We handle a multitude of jobs with ease, including Chevrolet serpentine belt replacement, timing belt maintenances and, of course, arduous tasks like engine repair - and this is just a chunk of what we can handle. Also, Van Chevrolet offers one-on-one customer service and reasonable prices. When you head over to Van Chevrolet's service department, take advantage of tremendous savings with our the latest specials. Click below!
You can contact our service center 24-7 using our online form