About Van Chevrolet Equinox Reviews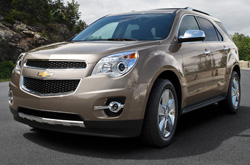 Welcome to the Van Chevrolet review of the 2013 Equinox. As the dominant automotive writers performed countless hours of research on the Equinox to provide you with the most outstanding information possible. Each paragraph is loaded with important information and specs- everything you need to make cognizant decisions on your next vehicle purchase. Get started by reading the full review or watching the video.
Video Review of the Chevrolet Equinox
Specs & Features Bullet List
When considering the 2013 Chevrolet Equinox head-to-head with the 2013 GMC Terrain, Nissan Murano, Toyota RAV4, Honda CR-V and the Kia Sportage, and you can find that the Equinox beats out those autos in several parts. Pay attention to the hightlights below.
2013 Chevrolet Equinox Cargo Space: 31.4 cubic feet
2013 Chevrolet Equinox MSRP: $23,755
2013 Chevrolet Equinox Body Style(s): Compact SUV
2013 Chevrolet Equinox 0-60 MPH in 8.3 seconds
2013 Chevrolet Equinox Colors: Ashen Grey, Atlantis Blue, Black, etc...
2013 Chevrolet Equinox Seats: 5 passengers
2013 Chevrolet Equinox MPG: 22 city / 32 highway
Warranty & Safety Information for Phoenix Equinox Owners
Our Chevrolet Auto Repair Center: Helping You Maintain Your Investment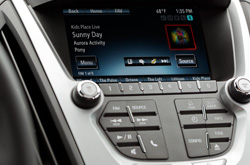 Van Chevrolet auto repair service in Phoenix is only a click away! Your Chevrolet deserves to be treated with the utmost respect - that means Chevrolet factory- trained technicians, accredited 2013 Chevrolet Equinox parts, and the peacefulness that comes from a 12-month service work warranty. When you bring your Equinox to our auto repair unit in Phoenix, you'll get topnotch service from our manufacturer-trained mechanics. Just a tiny part of the work our Chevrolet repair associates do includes serpentine belt replacement, muffler repair and easy standard inspections. From the simple to the complex, Van Chevrolet takes care of it all and offers honest prices, customized service and gurus mechanics. To find terrific service coupons, click the link under this paragraph right this instant!
You can contact our service center 24-7 using our online form