The 2012 Chevrolet Camaro from Van Chevrolet is the symbol of devoted automotive craftsmanship built to fit the needs of AZ Chevrolet enthusiasts. Van Chevrolet is delighted to present the 2-door 2012 Chevrolet Camaro Midsize Coupe. As your Phoenix Chevrolet dealer, we hope you find our 2012 Chevrolet Camaro reviews and research materials helpful in finding the details, specifications and information you've been searching for. View Van Chevrolet's new lineup of 2012 Chevrolet Camaro Midsize Coupes.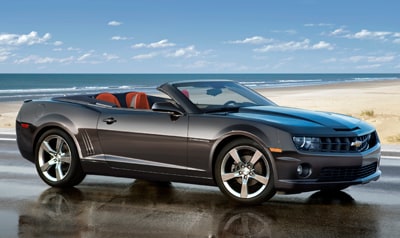 Van Chevrolet presents the 2012 Chevrolet Camaro Midsize Coupe
Consumers find that when they compare the 2012 Chevrolet Camaro to other makes like the Dodge Challenger, Ford Mustang, Hyundai Genesis Coupe and Nissan 370Z , the Chevrolet Camaro distinguishes itself as the most fun to drive. Take a look at our Quick List chart below to see why!
The 2012 Chevrolet Camaro has an starting MSRP of $23,200
The 2012 Chevrolet Camaro gets 17 city / 28 highway MPG
The 2012 Chevrolet Camaro goes from 0-60 MPH in 4.7 seconds
The 2012 Chevrolet Camaro features 42.4 inches of legroom up front and 29.9 inches in back
The 2012 Chevrolet Camaro features 37.4 inches of headroom in front and 35.3 inches in back
The 2012 Chevrolet Camaro is 190.4 inches long, 75.5 inches wide and is 54.2 inches tall
The 2012 Chevrolet Camaro weighs 3741 pounds and has a turning radius of 37.7 feet
We know you'll love the Chevrolet Camaro - visit Van Chevrolet in Phoenix today!
Van Chevrolet is excited to present the new 2012 Chevy Camaro to Phoenix car shoppers! There's a combination of value and style in the Camaro that's difficult to find anywhere else. Since the Camaro's arrival in 1966, it has become one of the most iconic muscle cars in the nation. Decades after its inception, the Camaro is still a feast for the eyes, outselling many other born-again pony cars. Its power, appealing looks and low MSRP of $23,200 make the Camaro an extremely attractive vehicle option. Van Chevrolet invites you to browse our extensive selection of new and used Chevy Camaro coupes and convertibles. Whether you are searching for the 2010 Chevy Camaro, Chevy Camaro 2011 or any other generation of these sporty Chevy muscle cars, you will find what you are looking for at our local Phoenix Chevrolet dealership.
The Camaro comes in several trims and two body styles. A sleek coupe is available in LS, LT and SS trims, while a convertible is offered in LT and SS trims. With its short-deck proportions and long-hood, the awe-inspiring Camaro 2012 flaunts a sporty and clean look. Van Chevrolet invites you to come check it out today. Visit our Phoenix Chevy dealership to find the Camaro in slick colors like Victory Red, Rally Yellow, Imperial Blue Metallic, Carbon Flash Metallic and more!
Like the 2011 Chevy Camaro, the 2012 model includes many top-notch power, safety and drivetrain features. An advanced stability control system, OnStar and antilock disc brakes are standard on all trims. Under the Camaro's finely molded sheet metal, Phoenix car shoppers will find powerful engines. The 2012 Chevy Camaro LS and LT are equipped with an updated 3.6-liter V6 that generates 323 horsepower and 278 lb-ft of torque. Both come standard with a six-speed manual transmission. A six-speed automatic is optional. The SS gets a 426 horsepower 6.2-liter V8 that pumps out 420 lb-ft of torque with a six-speed manual transmission. When the SS is outfitted with the optional six-speed automatic, it gets 400 horsepower and 410 lb-ft of torque. Visit Van Chevrolet for a test drive today!
One thing all Camaros come standard with is the ability to impress. Beautiful styling and an abundance of features have made the 2012 Chevy Camaro a top choice for many of Van Chevrolet's shoppers. Camaro LS models include high-end entertainment features like Bluetooth, a six-speaker sound system and satellite radio. Other amenities include keyless entry, a tilt-and-telescoping steering wheel and cruise control. LT models are outfitted with many of these features and add an extra dose of luxury with an iPod interface, foglamps and steering wheel audio controls. The Camaro SS gets a shot of adrenaline with sports-oriented 20-inch wheels, a V8 engine and a suspension system that is tuned to battle it out with the most stellar sports cars. After dark, the Camaro really comes out to play. The entire interior glows when fitted with the optional Ambient Light Package, which utilizes LED light pipe technology.
Chevy Camaro devotees can find a variety of pre-owned 2011 Chevy Camaros, 2010 Camaros and more at Van Chevrolet. As a leading SCOTTSDALE Chevy dealer, we're proud to offer an extensive collection of new and used Chevy Camaros, along with one of the largest selections of cars, trucks and SUVs in the Phoenix area. Visit Van Chevrolet to find your dream car today!
And introducing the excellent the Chevrolet Camaro ZL1 from Van Chevrolet in Phoenix!
At stop lights, on race tracks or speeding down drag strips, you'll leave the competition behind when you're driving the new 2012 Chevrolet Camaro ZL1. General Motors has aimed to give vehicles like the Dodge Challenger, Ford Mustang and Mustang Shelby GT500 some incredibly stiff competition. The ZL1 Camaro's got killer looks, razor-sharp handling, refined suspension and impressive power. Speed junkies and muscle car buffs will rejoice. The new ZL1 has been given the same infamous alphanumeric moniker as the legendary 1969 Camaro model and it promises to deliver even more power than its pavement-burning predecessor. Experience sensory and adrenaline overload - come test drive the 2012 Chevy Camaro ZL1 at Van Chevrolet today. As a leading Phoenix Chevrolet dealer, we offer one of the largest selections of new and used Chevrolet cars, trucks and SUVs in the area, including several new and pre-owned Camaro cars.
It wasn't much of a secret that General Motors was concocting a lethal brew of muscle and mayhem in their Detroit labs. Their designers weren't going to rest until they'd developed their next most street-lethal creation, and when they did, they found it only appropriate to name it after one of the fiercest engines in racing history: the ZL1. This legendary engine was introduced in the late 60s, and in spite of its small-scale production, it gained an almost mythical status among race car buffs. In 1969, Chevrolet only incorporated the engine into 69 of what turned out to be the most high-performance Camaros ever produced until now. This year, GM has resurrected the Chevrolet Camaro ZL1, a drag-racing phenom with more advanced technology and more muscle than any Camaro in history. Chevrolet's latest incarnation of the ZL1, like its 1960s brethren, represents the Camaro at its best.
The 2012 Chevrolet Camaro ZL1 from Van Chevrolet is the most high-tech car in its class, both under the hood and behind the wheel. Its extensive list of technical highlights encompasses a slew of performance features and luxurious interior amenities. The 2012 ZL1 is packed with convenient goodies that'll pamper Phoenix Camaro drivers. Power seats, Bluetooth, a Boston Acoustics premium sound system and steering-wheel audio controls are just a few of the terrific features that you will find on the Chevy Camaro ZL1. Available in a wide array of exterior colors, you can select slick paintcoats like Inferno Orange Metallic, Red Jewel Tintcoat, Summit White and classic Black. Learn about all standard and available features, color options and other vehicle specs when you visit our Phoenix Chevrolet dealership.
The function-oriented design of the 2012 ZL1 Camaro is not only breathtaking, it also aerodynamically efficient. It doesn't just look fierce; on the outside several key features heighten performance. The exhaust system features an actuated flap that opens when the ZL1 is racing at high speed. This mechanism reduces back pressure and produces a monstrous, fear-inducing roar. Handling is maximized thanks to a specially designed hood with air extractors that create aerodynamic downforce. Broad 20-inch wheels and new rocker panels also enhance power and handling. We invite you to come see the newly designed Camaro ZL1 at Van Chevrolet. Its exterior design differs dramatically from its 1969 predecessor, but Phoenix Chevrolet Camaro enthusiasts will appreciate its function-based styling and gorgeous contemporary looks.
On the inside, a burly powertrain shifts, cranks and combusts, boosting performance and producing incredible power. The 2012 Chevy Camaro ZL1 from Van Chevrolet is equipped with a LSA 6.2-liter supercharged engine that produces 550 horsepower and 550 pound-feet of torque. The all-aluminum motor utilizes features like an intercooled supercharger system and high-quality heat-resistant aluminum alloy cylinder heads that give the ZL1 a smooth and refined ride. The LSA is matched with a high-performance Tremec TR-6060 six-speed manual transmission. Its drivetrain is stronger than ever before, incorporating a hearty driveshaft, rear axle system and heavy-duty limited-slip differential. In addition, the ZL1 features the fastest-reacting suspension system on any vehicle in the world, utilizing technology that is only seen on a handful of the world's finest high-performance cars: magneto-rheological science. This science is integrated into the Magnetic Ride system and includes driver selectable modes like Tour and Sport which allow Phoenix Chevrolet ZL1 owners to tailor their driving experience. The system dampens shock, sharpens handling and magnifies the ZL1s overall performance.
If you are anxious to get behind the wheel of the new 2012 Chevrolet Camaro ZL1, visit Van Chevrolet. As a leading Phoenix Chevrolet dealer, we offer one of the largest selections of Chevy cars, trucks and SUVs in the area. We're excited to present the new 2012 ZL Camaro and invite you to come check out this racing champion for yourself!
Cruising in a Chevrolet Camaro from Van Chevrolet makes AZ driving convenient, safe and enjoyable - all at the same time! Here are the reasons why:
Van Chevrolet has a colossal collection of 2012 Chevrolet Camaro Midsize Coupes with standard Chevrolet safety features like anti-lock brakes, traction control, driver airbags, passenger airbags, side airbags and more, making the 2012 Camaro an NHTSA and IIHS favorite. In addition to these safety features, the 2012 Chevrolet Camaro can pleasantly seat up to 4 passengers. Trunk space with Chevrolet is never a worry; the Camaro can hold up to 11.3 cubic feet of your personal belongings, ensuring that your next journey is hassle-free. To top it all off, the 2012 Chevrolet Camaro includes an excellent list of comfort and convenience accessories like powered windows, mirrors, doors and locks, climate control, AC and optional hands-free phone and navigation systems. Take a test drive at Van Chevrolet today and experience the Chevrolet Camaro for yourself.
The Chevrolet manufacturer's warranty covers the Camaro for manufacturing defects and has a 3 years / 36,000 miles Chevrolet warranty. Chevrolet has worked for years to minimize its environmental impact; as a result, the Camaro's carbon footprint is minimal. Not surprisingly, with all of the Camaro's advantages, this quality Chevrolet Midsize Coupe retains a high percentage of its value at 3 years and 36,000 miles, which makes the Chevrolet Camaro a great used buy! When seeking a safe, stylish and economical Midsize Coupe, SCOTTSDALE Chevrolet enthusiasts should head to Van Chevrolet, located at 8585 E Frank Lloyd Wright in SCOTTSDALE, AZ
Chevrolet Camaro service information for Phoenix
Chevrolet Camaro lessees and owners in Phoenix have determined that Van Chevrolet at 8585 E Frank Lloyd Wright in SCOTTSDALE is the very best choice for Camaro warranty work, regular maintenance, inspections and mechanical repairs. At Van Chevrolet, Certified Chevrolet Technicians trained in the very latest corrective and diagnostic techniques work for one thing - your approval. Whether it's time for your Chevrolet to have an oil change, air conditioning repair, or simply undergo Camaro Scheduled Maintenance, Van Chevrolet is your first choice. Our Certified Chevrolet Mechanics also complete specialty jobs and repairs. Van Chevrolet is the smartest choice in Phoenix for speedy, respectable and professional Chevrolet Service of all kinds.
If you'd like to make an appointment to have your Camaro serviced, click the link or just give us a call. We look forward to seeing you soon!