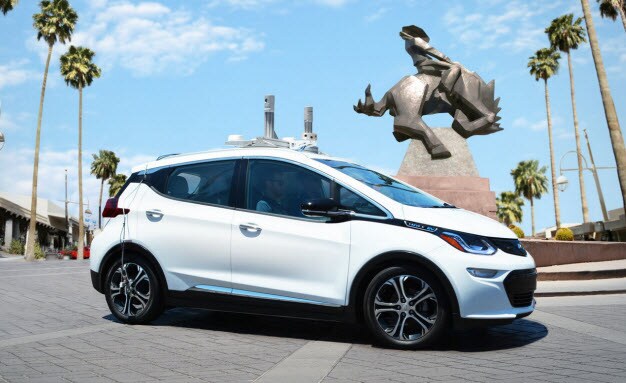 Next time you're traveling around Old Town Scottsdale, be sure to keep your eyes peeled, because you may just get a glimpse of a semi-autonomous Chevy Bolt driving right beside you. Prototypes of the all-electric SUV, equipped with autonomous tech, are currently being tested in the area by GM-owned company Cruise Automation.
A newly acquired company, Cruise Automation has been busy testing out pre-production Bolt models in San Francisco and recently made the decision to begin testing the vehicles in Scottsdale as well. There's no word as to what the company's future plans are for the autonomous-tech-equipped models, but there are some speculations. GM's recently signed deal with Lyft to eventually offer a fleet of self-driving cars just may have something to do with it.
The final production version of the Bolt isn't expected to arrive until later this year and we do not know if it will come with the autonomous tech currently being tested. However, we do know the SUV will offer a 200-mile driving range and generate 200 horsepower and 266 lb.-ft. of torque. It's also expected to feature a slew of top-of-the-line technologies and safety equipment, which you'll be able to learn more about as further information is released.
Contact us at Van Chevy today to find out when the model will arrive at our dealership, or stop by and view our current collection of brand-new 2016 cars, trucks and SUVs.