About Camaro Reviews for 2015 from Van Chevrolet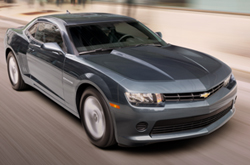 Hollywood looks and rock-star performance can be yours with the Camaro. For nearly five decades, the legendary pony car has been an automotive icon, representing the best of American muscle.
When compared to one of its main rivals last year, Autoblog's Seyth Miersma made it clear where his affection lies, "These days, with the [Ford Mustang] due to be replaced and the Camaro Convertible brand-new and looking as sexy as ever, I know where my money would go." We agreed then and still do today. If you're looking to invest in a movie-star muscle car, you'll want to consider purchasing a 2015 Chevy Camaro in Scottsdale, Ariz.
Camaro has been the best seller in the affordable sports car segment for the past four years and the 2015 edition continues this path of excellence. All of last year's updates carry over, including design changes and the addition of optional Recaro seats. The tire-burning Z/28, a reincarnation of the first-gen 1960s Z/28, which was brought back last year, is also still available for 2015.
Shoppers can select between coupe and convertible body styles, the latter of which is an excellent option if you want to experience open-air fun on the open road. And along with offering two body styles, the lineup features three robust engines: a 323-horsepower V-6, 426-horsepower V-8 and supercharged 580-horsepower V-8, which is not for the faint of heart.
When you test drive the 2015 Chevy Camaro in the Phoenix area, its roaring engines aren't the only thing that'll grab your attention. You'll also be surprised by the number of advanced amenities it offers. Shoppers are sure to be more than pleased with tech features like Bluetooth hands-free phone, OnStar and satellite radio, while safety technologies such as rear park assist and StabiliTraK will keep you and your Camaro safe from harm.
For complete details about each trim level's standard features and options, please visit or contact Van Chevrolet! To see photos and video of the car, check out the rest of our 2015 Chevy Camaro review following the inventory listings below.